Chem-Pro
Description
Chem-Pro
Violet-colored Chem-Pro™ engineering grade co-polymer piping system for chemical solutions costs less than alloy steels and has greater abrasive resistance. This product has been developed for broad industrial applications including, industrial cleaning, chemical treatment, galvanizing processes, mineral processes.
The Chem-Pro™ system is part of the family of safety-oriented color-coded piping systems that conform with the requirements of standards relating to content identification of pipes, conduits and ducts, including AS1345 (1995).
Compatible with wide range of Acids, Alkalis and Slurries
Lightweight
Range 1/2″ – 4″ N.B.
High impact resistance
Superior U.V. resistance
Wide operating temperature
All materials are Re-usable, Re-locatable and Re-cyclable
Like all the other members of the Pro-Pipe family, Chem-Pro™ can be easily cut around to reconfigure production lines for changing needs or to add capacity. This ability to easily construct and reconstruct pipeline systems – or even to move entire reticulation systems from one place to another – saves considerable time, labor and expense.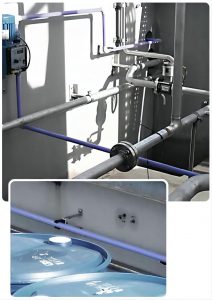 One of the early applications of Chem-Pro™ is at an aluminum extrusion plant where it is used to carry caustic solutions needed to clean more than 50 press dies. The dies, changed continuously in response to production needs, are bathed in caustic tanks after being used to produce a wide range of extrusions for products such as security doors, window frames, floor planks, racking and whitegoods trim. Use of Chem-Pro™ in this application is complemented by green Water-Pro™ piping for water and blue Air-Pro™ piping for compressed air, with the easily identified pipes being grouped together for easy installation and maintenance.
Manufactured from especially formulated CXPP-40 high performance polymer polypropylene, Chem-Pro™ and the other CalAir pipe systems offer triple the impact-resistance of earlier products with greater stiffness and temperature performance.
"These benefits are in addition to polymer's huge advantage over heavier materials, including ease of installation and removal. In dynamic industrial and resource construction projects and fit outs, where lost production means lost money, it is important to be able to get your product installed quickly with minimal dependence on costly skilled labor. Similarly, as processing plant roles change with refurbishment and updating, owners need to be able to change and re-route piping systems with minimal disruption and waste. Rather than having to wastefully scrap rigid piping systems, it is more economic to have a system that can be easily cut, reconfigured and re-used in new roles."
CalAir's permanent color-coding for easy identification of pipe contents including black for waste, brown for oil, blue for compressed air, beige for other gases, green for water, and red for fire services. CalAir pipe systems conform with content color-coding standards established to help prevent accidents, misuse and confusion in workplaces by ensuring employees can immediately identify and correctly apply the substances they are handling, mixing or disposing of.