Compact Cylinder/Compact Type CQS/CDQS
Product Code: CQS/CDQS Compact Cylinder/Compact Type
Description
Compact Cylinder/Compact Type CQS/CDQS
・With this compact square type cylinder, auto switch mounting on 3 or
4 sides is possible.
This compact cylinder does not protrude from the body when mounting
an auto switch.
・Newly added compact type foot brackets and double clevis pivot bracket
・With auto switch (CDQS series: CDQS, CDQSW, CDQSK, CDQSKW,
CDQS□S)
| Type | Series | Action | Bore size (mm) |
| --- | --- | --- | --- |
| Standard | CQS | Double acting single rod | 12,16,20,25 |
| Standard | CQS | Single acting (Spring return/extend) | 12,16,20,25 |
| Standard | CQSW | Double acting double rod | 12,16,20,25 |
| Non-rotating piston rod | CQSK | Double acting single rod | 12,16,20,25 |
| Non-rotating piston rod | CQSKW | Double acting double rod | 12,16,20,25 |
| Anti-lateral load | CQS□S | Double acting single rod | 12,16,20,25 |
■Ideal for machine designs with small space requirements
The "D-M9" auto switch will not protrude from switch mounting groove.
■Square body shape gives you  flexibility for designing machine
Cross-section of a cylinder tube is the same configuration regardless of w/ switch or w/o switch.
■Auto switch mounting allows for  flexible designing requirements
3 faces on ø12, ø16, and all 4 faces including port side on ø20, ø25.
■2 way basic mounting:  Through-hole or both ends tapped
Basic mounting is 2 way. You can choose either through-hole or both ends tapped mounting.
■Non-rotating accuracy Non-rotating rod
Hexagonal cross sectional shape piston rod for high non-rotation accuracy.
ø12, ø16 ̶ ±1°
ø20, ø25 ̶ ±0.7°

■Reduction of installation space
Compact foot bracket
Compact foot bracket has the same width as the cylinder.
Overall width reduced by up to 43% (for ø12)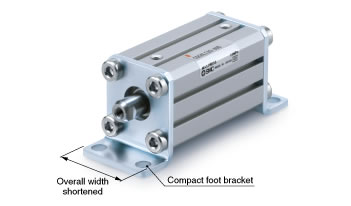 More compact installation space possible
Short pitch mounting is possible.
Allows installation close against a wall.

Height from the bottom of brac
kets to the center of a cylinder is the same as the existing model.

■Reduction in labor for design
Added pivot brackets for double clevis.
Rotating angle: Max. 100°(For ø12, ø16)
Time to design rotating bracket saved.
Improved amount of mounting freedom.
Can be mounted to an installed double clevis cylinder.